The Huron Shores Area Transit bus service is an affordable bus system designed to provide residents with affordable transportation options within the region, connecting our local communities to one another.
Huron Shores Area Transit services Bluewater, Kettle & Stony Point First Nation, Lambton Shores, North Middlesex, South Huron and Strathroy-Caradoc.
For more information please visit Huron Shores Area Transit website.
WOULD YOU LIKE TO SEE TRANSIT EXPANDED IN AND THROUGH NORTH MIDDLESEX?\
We need your input! Please take minute to complete the Huron Shores Area Transit survey to provide input on our regional transit system.
Download the App
Download the free 'transit' App, shown below, in the Apple or Google Play stores to access up-to-date bus routes, schedules and maps.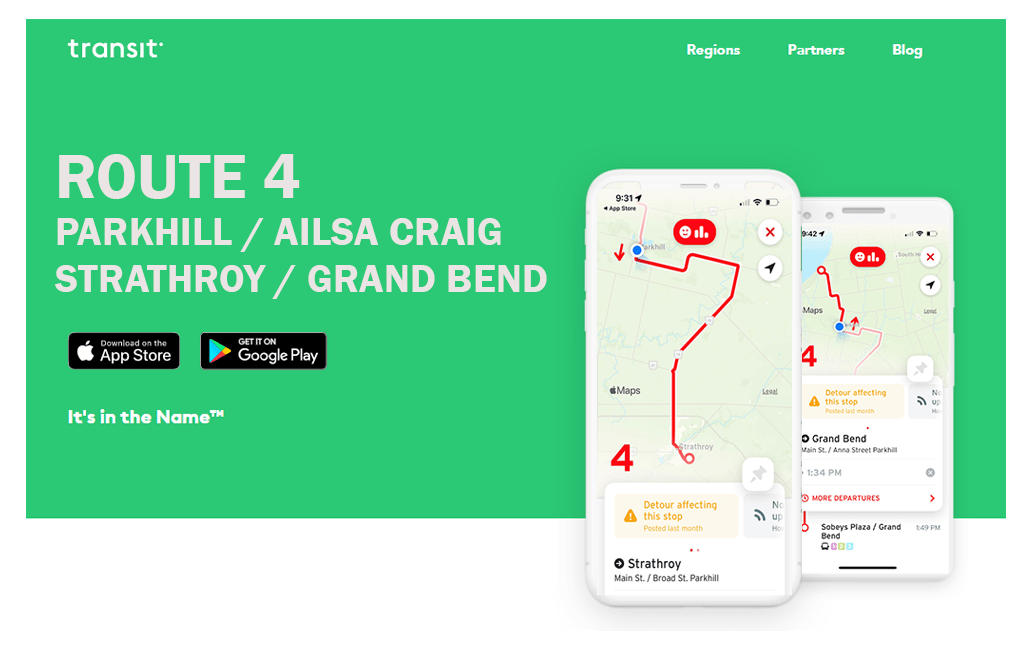 Text for Immediate Updates
Transit schedule times can be accessed by texting "HSAT" + Bus Stop Number to 1-888-743-3472. 
Bus stop numbers can be found on the bus stop signs, and online on the Route webpages.
Click here to find Parkhill and Ailsa Craig's route numbers.
Schedules, Routes & Maps

Help to find out when your next bus will arrive, call Voyago at 1-888-465-0783.
Bus Fares & Passes

All route fares are $5 and transfers between routes are free. Children 12 years and under ride free all the time.

Please have your $5 ready when you board, Their drivers are unable to make changes. 
Accessibility

All of our buses are equipped with an accessible lift that can be used by passengers with limited mobility or who use a mobility aid such as a wheelchair.

Bus Stops- In cases where a transit stop is temporarily inaccessible, people with disabilities will be able to board or exit the bus at the closest available safe location. In determining where a safe location is located, the operator will consider the preference of the person with a disability, however, the final determination of the safe location will be determined by the operator.
Priority Seating- Priority Seating is for the use of passengers with a disability. Each bus is equipped with a designated location found at the rear of the bus for persons using a wheelchair or other mobility aid. If you do not have a disability or mobility challenge, please vacate these seats when asked by a person with a disability or the bus operator.
Service Animals- Passengers with disabilities who are accompanied by their service animal are welcome on our vehicles. Service animals must be clearly identified (such as by a vest or harness) and must be in the care and control of their owner at all times.
Support Person- Support Persons accompanying a passenger with a disability are permitted to ride the bus for free.

For more information on accessibility visit the Huron Shores Area Transit website.
Community Transit Grant
Huron Shores Area Transit is made possible through an Ontario Community Transportation Grant (CTA program) of $2-million. The grant program supports local and intercommunity bus service in areas unserved or underserved by public transit, making transit within and between communities a reality. The program will make it more convenient for Ontarians, including seniors, students, youths, persons with disabilities and others to access essential services in their communities, connect with other transportation services, and travel between cities and towns.