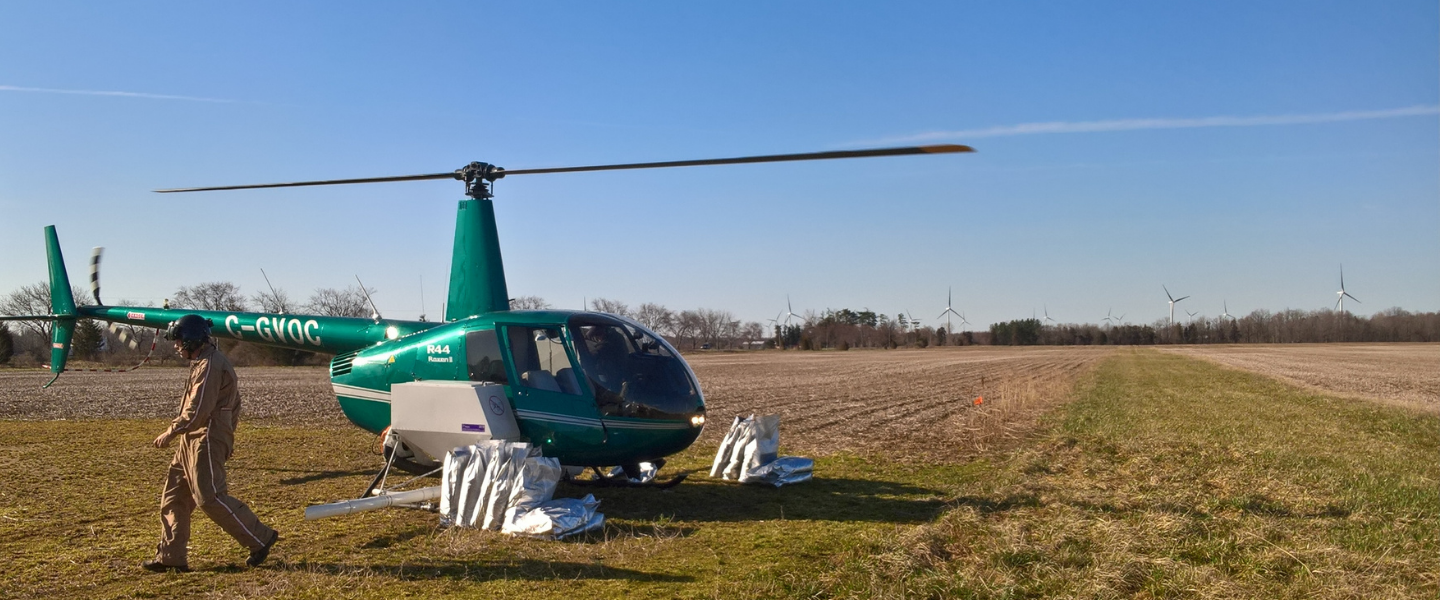 For Questions Contact:
Kristyn Wilson
|
Job Title
Public Works Clerk
Email
kristynw

[at]

northmiddlesex.on.ca
|
ext.
Larvicide Program (2023)
A spring application of the larvicide is planned to be conducted by helicopter to stagnant water within 2 km of the Town of Parkhill, Village of Ailsa Craig, and the Hamlet of Nairn to control the larval stages of mosquitoes. The Spring Aerial mosquito program is timed to control the snow-melt mosquitoes and the early summer larva. 
This biological larvicide contains the active ingredient "BTI" and is very specific to mosquito larva (information regarding the product can be found below). The application is weather-dependent and will take place between April 3, 2023 and June 30, 2023.
Larvacide Application Process

The Spring Aerial mosquito program is timed to control the snow-melt mosquitoes and the early summer larva.  The program can provide control typically into May with the aerial application. The rest of the season is dependent on precipitation, and once into June, the tree cover starts to interfere with the effectiveness of the application by air.

If any standing water flooding is found in May/June time frame, please report it to Kevin Taylor (@email or 1-866-648-7773) at Pestalto Environmental Health Services Inc. Unfortunately, after the larva has emerged into adult mosquitoes, there aren't any biological controls that will work.

When early summer arrives, the Middlesex-London Health Unit (MLHU) monitors and controls vector mosquito species to reduce the spread of West Nile Virus (WNV) and other vector-borne diseases such as Eastern Equine Encephalitis (EEE). The MLHU performs surveillance and sampling at about 250 standing water sites located on public property throughout Middlesex-London. Visit their website to learn more about MLHU's Mosquito Surveillance, Control and Standing Water.
Program 2023

February 17th, 2023 

Notice of Aerial Application of Larvicide for Mosquitoes has been provided to affected landowners.

March 20th, 2023 

Land owner objection forms due to be returned​​

April 3rd - June 30th, 2023 

Aerial Application of Larvicide​

July 28 - August 18, 2023

The contractor for the larvicide program, Pestalto will begin some ground level treatments in the upcoming days. They have applied to MOE for a permit amendment to get the product (VectoLex CG added).  This will give us a longer control period (>3 weeks) from another application.  ABCA will conduct a site visit to look for standing water sources at the damn area.  The standing water on West Park Drive/Michelle Ave will be addressed.

 
Spray Application Maps 2023
Additional Resources
North Middlesex Area Boundary Maps
Learn More About BTI
Contact
If you require information in regards to the Mosquito Control Program, you may contact Kevin Taylor from Pestalto Environmental Health Services Inc. 
Phone: 1-866-648-7773
Email: @email