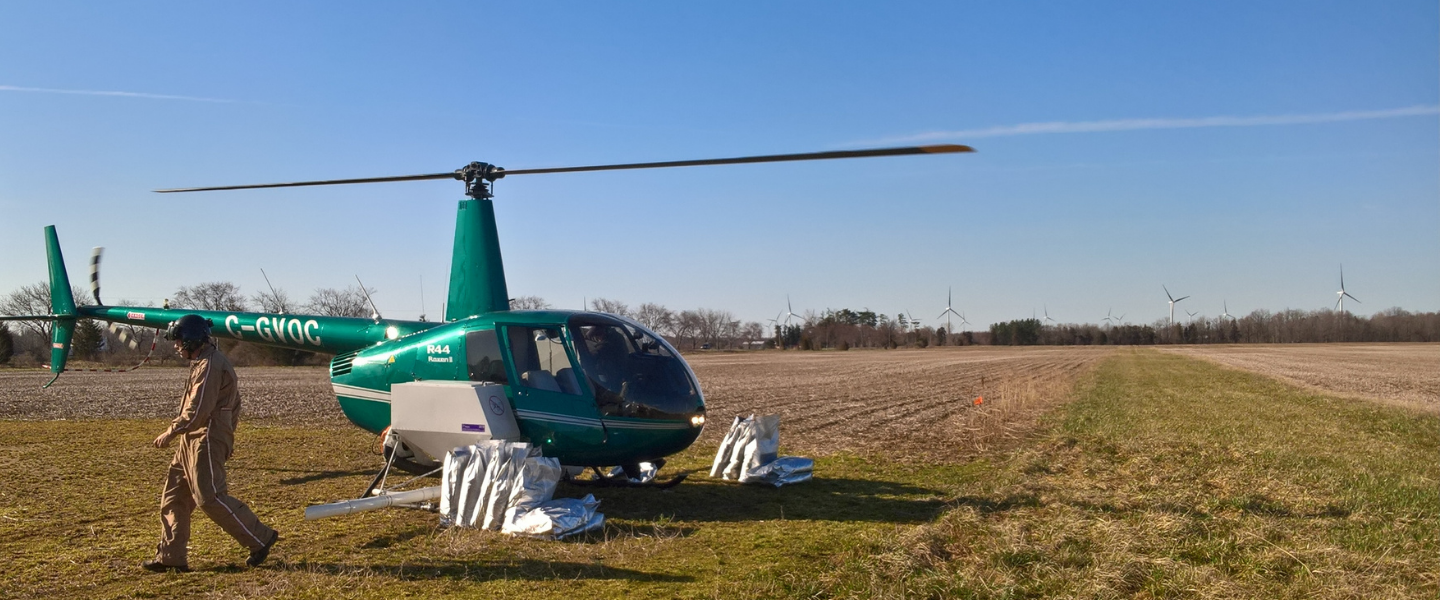 For Questions Contact:
Donna VanHooydonk
|
Job Title
Executive Assistant/HR Coordinator
Email
donnav

[at]

northmiddlesex.on.ca
|
ext.
Larvicide Program (2022)
A spring application of the larvicide is planned to be conducted by helicopter to stagnant water within 2 km of the Town of Parkhill, Village of Ailsa Craig, and the Hamlet of Nairn to control the larval stages of mosquitoes. The Spring Aerial mosquito program is timed to control the snow-melt mosquitoes and the early summer larva. 
This biological larvicide contains the active ingredient "BTI" and is very specific to mosquito larva (information regarding the product can be found below). The application is weather-dependent and will take place sometime between March 21st and June 30th, 2022.
Larvacide Application Process

The Spring Aerial mosquito program is timed to control the snow-melt mosquitoes and the early summer larva.  The program can provide control typically into May with the aerial application. The rest of the season is dependent on precipitation, and once into June, the tree cover starts to interfere with the effectiveness of the application by air.

If any standing water flooding is found in May/June time frame, please report it to Kevin Taylor (@email or 1-866-648-7773) at Pestalto Environmental Health Services Inc. Unfortunately, after the larva has emerged into adult mosquitoes, there aren't any biological controls that will work.

When early summer arrives, the Middlesex-London Health Unit (MLHU) monitors and controls vector mosquito species to reduce the spread of West Nile Virus (WNV) and other vector-borne diseases such as Eastern Equine Encephalitis (EEE). The MLHU performs surveillance and sampling at about 250 standing water sites located on public property throughout Middlesex-London. Visit their website to learn more about MLHU's Mosquito Surveillance, Control and Standing Water.
Program Updates 2022

May 13th, 2022-  Post Larvicide Surveillance

Surveillance indicates that the aerial spray was very effective.  No larvae were found at a majority of the sites, and where mosquito larvae were found their numbers were low.

April 14th, 2022- Post Treatment Monitoring

General Observation/Comments- Evidence of granular VectoBac was found in all sites visited. However, some sites required some spot treatment as some larvae were detected. There were no 1st or 2nd instar larvae found, indicating that the treatment's timing was appropriate.  Mostly 3rd instar larvae and 4th instar larvae were found. As snow activity and recent rain could have brought on a new hatch, another surveillance will occur in a week.  It may be necessary for a second application down the road.

April 12th, 2022- 1st Aerial Application of Laravcide (See Spray Application Maps)

March 31st, 2022- Larval Surveillance

General Observation/Comments- In Parkhill, a moderate number of larvae were in the late 1st/early 2nd instar. It is expected that larval development will progress next week, and treatment could occur the following week. No larvae were detected in Nairn or Ailsa Craig.

​​​March 22nd, 2022- Initial Ground Surveillance

General Observation/Comments- The larvae were newly hatched firsts with some early second instars. Majority "NIL" rating; where the hatch was observed mostly "low" reading with one "high".  The hatch had commenced in some areas but was not uniform throughout communities as standing water was generally low. A major rain would bring on an early summer hatch (which may have occurred on March 23rd, 2022).

February 14th, 2022 - Notice of Aerial Application of Larvicide for Mosquitoes has been provided to affected landowners
Spray Application Map 2022
Additional Resources
North Middlesex Area Boundary Maps
Learn More About BTI
Contact
If you require information in regards to the Mosquito Control Program, you may contact Kevin Taylor from Pestalto Environmental Health Services Inc. 
Phone: 1-866-648-7773
Email: @email