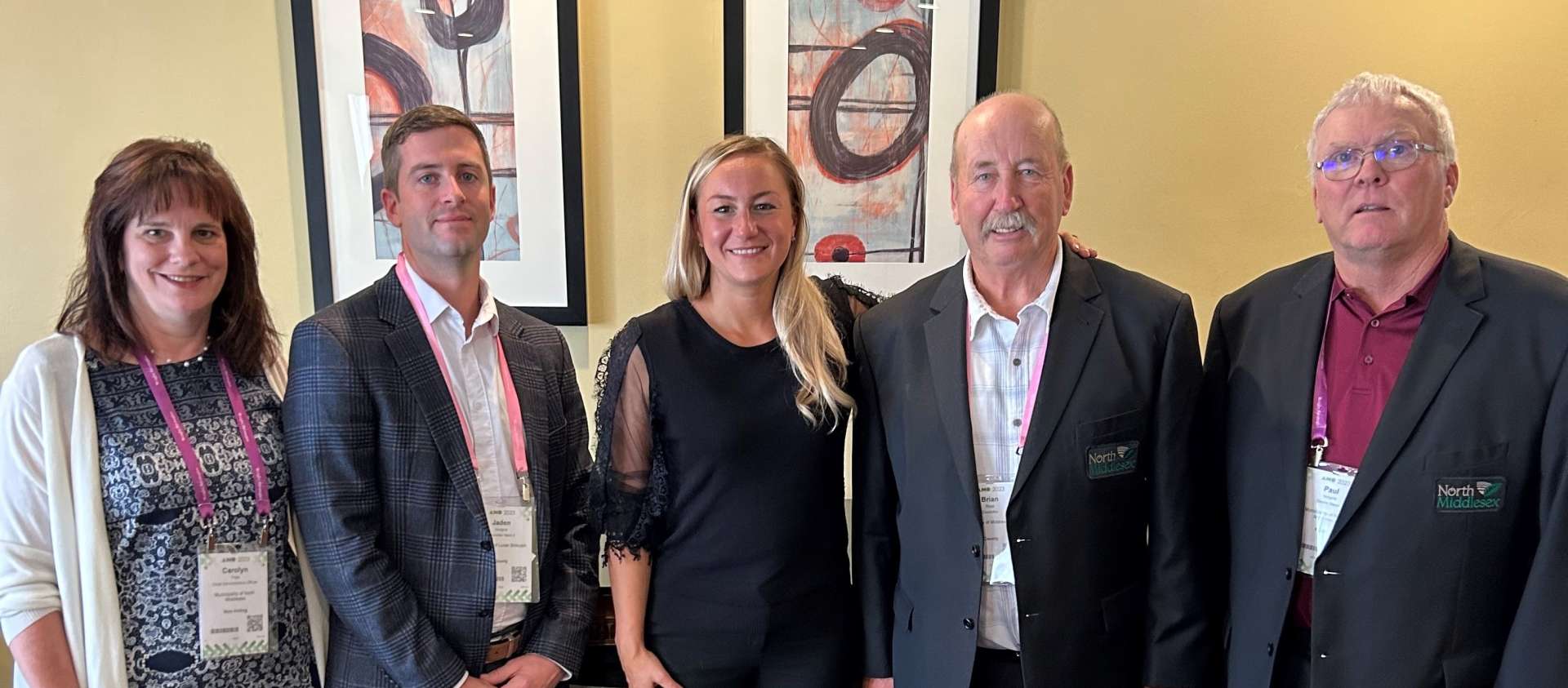 LONDON, ON (August 22, 2023): Representatives from the Municipality of North Middlesex took a significant step towards securing a promising future by meeting with Ontario's Minister of Infrastructure, the Honourable Kinga Surma, at the Association of Municipalities of Ontario (AMO) Conference .  This delegation meeting served as a great opportunity to advocate for essential infrastructure funding from the Province for the forthcoming Parkhill Wastewater Treatment Plant (WWTP) project.
Led by Mayor Brian Ropp, the delegation emphasized the Municipality's goals for growth and development, and the corresponding need for infrastructure funding to support this growth.  By fostering constructive conversations with Minister Surma and sharing insights with municipal peers from across the province, the Municipality of North Middlesex showcased its commitment to collaboration and community growth.
The delegation highlighted the urgency of securing robust funding for the Parkhill WWTP, demonstrating how this investment aligns with our vision for a prosperous future and the Province's goal of building 1.5 million homes by 2031. By addressing the need for strategic asset management and sustainable infrastructure, the Municipality of North Middlesex showcased its determination to build a foundation that supports our community's well-being.
Mayor Brian Ropp expressed optimism in collaborating with Minister Surma and fellow municipalities to collectively address shared concerns. By advocating for strategic investments, effective resource allocation, and forward-looking policy frameworks, we aim to empower not only our municipality but the entire region with the tools to thrive.
"On behalf of the Municipality of North Middlesex, we engaged in an important discussion with the Ontario Minister of Infrastructure. We drove home the urgency of securing infrastructure funding to support our municipality's crucial infrastructure projects, such as the Parkhill wastewater treatment plant. Smaller municipalities in Ontario, like North Middlesex, are feeling the infrastructure crunch now more than ever, and the progress of our communities hinges on this much needed senior government support." - Mayor Brian Ropp